Friday | September 16 | 9:00 PM
SON'S OF RALPH
Bluegrass Masters
---
Members of "The Sons of Ralph" are the sons of Bluegrass pioneer Ralph Lewis. Martin and Don Lewis, Cousin Steve Moseley, and the "other brother" Ozzie Orengo, Jr. make up this band of Bluegrass masters – and have been playing and singing the unique style of bluegrass music since Ralph's upbringing in Madison County.
Martin Lewis
Vocals, Harmony Vocals, Acoustic/Electric, and Slide Guitars, Dobro, Harmonica, Percussion and Keyboards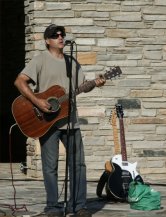 Martin Lewis is a gifted and prolific songwriter whose music has been recorded by Sons of Ralph, Open Road , Norfolk Southern Lawmen, 40 West, and The Lids. Martin has performed with Chubby Wise and Kenny Baker (former Bill Monroe "Bluegrass Boys"), Vassar Clements, and Hank Thompson, and he has recorded with numerous other groups. As a child, Martin began playing musical instruments that were ever-present in the Lewis house. In the early 1970s, he and brother Don performed at coffeehouses, CB conventions, United Way events, Shindig on the Green and bluegrass music festivals throughout the Southeast.
From 1974-1976, Martin and Don toured with their father and Bill Monroe during school breaks as the youngest "Bluegrass Boys". The last time Ralph took the stage at the Grand Old Opry, he and his young sons performed for an audience that included Bill Monroe, Lester Flatt and Earl Scruggs.
On stage, Martin is relaxed and smiling behind his guitar, singing ballads he composed about people and places he knows, such as his beloved Madison County, followed by virtuoso renditions of Southern rock classics.
---
Don Lewis
Fiddle, Banjer, Vocals, Harmony Vocals, Acoustic and Electric Guitars, Harmonica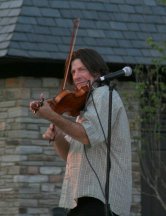 Don Lewis started his music career at age 5, first playing the mandolin then graduating to the fiddle by age 10. According to Don, Martin was the intended fiddler, but it was Don who was destined to master this instrument. The brothers' first band was "Ralph Lewis Family and Friends", formed when they "hired" Ralph away from Bill Monroe. Actually, Ralph freely admits that he left Bill Monroe and international fame as one of the Bluegrass Boys in order to stay home with his family.
After years of performing with brother Martin at venues throughout the Southeast, in the 1990's Don toured Europe with the Shady Grove Band and played with the Red Clay Ramblers on Broadway. His talent and musical versatility caught the attention of Michael Bogdanov, legendary British director of Shakespeare plays. Bogdanov hired Don and fellow Red Clay Rambler Jack Herrick to compose and perform the score for the BBC Wales film, "A Light on the Hill" (2000).
On stage, Don transitions effortlessly between mandolin and fiddle, pouring heart and soul into the music, and taking the audience on his wild ride. His signature piece, "The Devil Went Down to Georgia " tells the well-known story with new intensity.
---
Steve Moseley
Vocals, Harmony Vocals, Bass, Acoustic, and Electric Guitars
Steve Moseley is a double first cousin once removed to Ralph, past bassist with Social Funkshen, and a staff musician for the Hogs Breath Saloons in Key West and Destin, Florida.
Steve is married to his dream girl, Wendy. They have one daughter Cassidy, who is Merchandise Sales Director for the Band. Steve is a nurse and he works with people with developmental disabilities and he also volunteers his time and musical talents to Bugles Across America
---
Ozzie Orengo Jr.
Percussion
Ozzie Orengo Jr. was born in the Bronx, NY into a fluent musical family. Motivated by his father Ozzie Sr. to join uncle Reuben Orengo to form The Orengo Band, his family relocated to Asheville, NC.
The Orengo family became known for bringing the latin music scene to the mountains. Ozzie Jr. began playing professionally at age 15 with local and regional bands including Con Clave, Eta Carina, and currently plays with a nine piece salsa band Nuevo Montuno:. His various styles of drumming allow him to play with Motown recording artist Sidney Barns and singer-songwriter Kellin Watson. Ozzie met the Lewis Brothers at a jam session in 1998. He joined the band 7 years later, and is now known as Brother Oz.